Welcome to the Overgeared Wiki
Overgeared (템빨, Temppal) is an ongoing Korean novel by "Park Saenal" (박새날).
The novel currently has around 1000+ raw chapters and currently being translated by Rainbow Turtle.
If you like Overgeared please support Rainbow Turtle or the Author.
Admins
Hi, enjoy our humble fandom. Contact any admin if you need help.
Links
Raws
Translated
If you want advance chapters, create an account → profile → billing → sponsor / VIP
Discord Server
Join our Discord server if you want to chat with other people!
Help expand our knowledge!
This fandom is made by and for any fans of Overgeared. If there are any spelling mistakes, missing information, new information, please do share it with us! Together we'll make a good fandom for all new fans!
BUT FIRST, check our guidelines to be sure you follow our fandom rules and formats.
Feature Article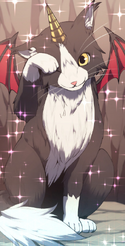 Noe, a memphis, has an appearance of a small cat with a pair of devil wings on his back and a small horn on his forehead. It has smooth black fur and only the end of his four feet and tail are white as snow. It can talk human language...

(Please note that the article may contain spoilers for manhwa readers.)
Reminders
Links
Only internal links and "official" external links is allowed. Do not put links of your personal pages or whatnot inside articles. You can only post them in the comments section. Spams will be deleted.
Opinions
Your personal opinions are not facts. Please keep to unbiased/objective contents. If you want your opinion to be known, post it on [[User_blog:Anonymous User|your blog]].
JayeM2018 (talk) 15:59, 10 November 2020 (UTC)
Disclaimer
Spoilers
No contents are labelled as spoiler since they are only based on information from chapters available to non-VIP readers of the novel. However, this is not the same for readers who are not up to date. Hence, for readers new to Overgeared, browse at your own risk.
JayeM2018 (talk) 20:56, 31 July 2021 (UTC)
KAKAO

Foxtoon

Ridibooks

KakaoPage

Lezhin

Naver

---